Ceiling to the Sky
T H E f O R U M | A Multipurpose Hall
This modest multipurpose hall is located at the heart of the old Part of Tehran, in Lalezar, once upon a time the Champs-Élysées of a Tehran. Sat within an old site with buildings aging up to 150 years, with a double height, the hall at its lowest level occupies the basement and at its highest the ground floor of an old carriage house. It takes up an area of approximately 110 square meters. The sheer contrast of a clean and interesting modern space with the old context it sits within draws the audience to an uncanny sense of belonging and calmness.
The design of the ceiling offers an extruded ornamental plane showing a series of rhombi opening up towards the audience. It has formed an aesthetic juxtaposition with all the other simple surfaces of the space, inviting people to come together under a curiously interesting shelter.
The natural oak finish of the flooring gives a sense of warmth to the hall which offers possibilities to hold forums, gatherings, theatre performances, conferences as well as more intimate events. Using the steps as seating (which will be lined with cushions during events) has meant the making of a friendlier more flexible atmosphere.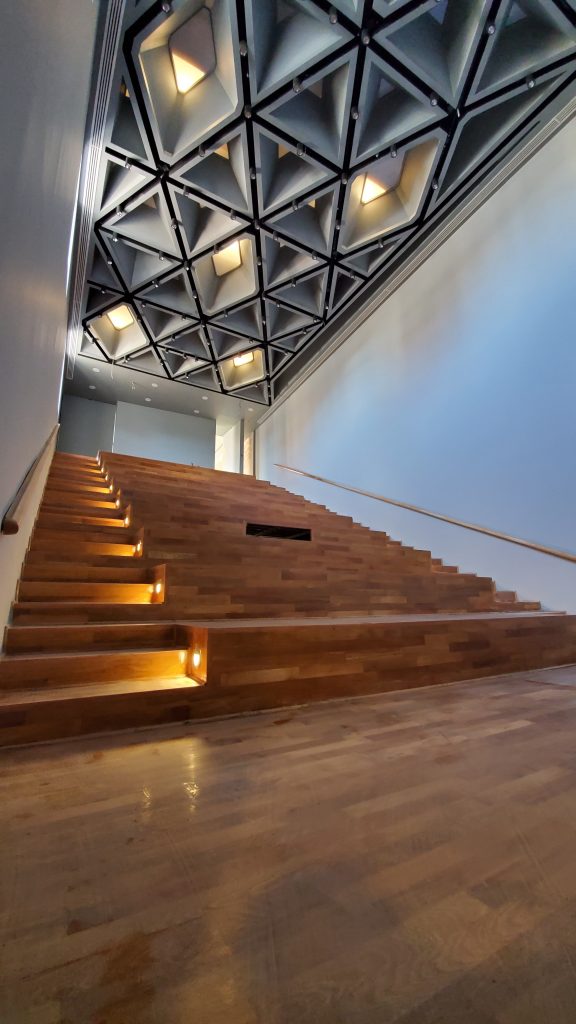 Next Project