Grow The Seed
The Pavilion of Iran in Milan Expo 2015
Aiming to showcase the theme "feeding the planet, energy for life" the 2015 Expo will be a live show of the dynamics of various socio-cultural solutions for the nutrition of human beings at the present and in the future.
'My Iran' is a proposal for the pavilion of the Islamic Republic of Iran in Milan Expo 2015 which sits in a longitudinal rectangular site of 20 by 100 meters. What we like to call a 'Resonant landscape' has challenged us to investigate an observation and analysis of the behavior of plants as kingdoms of social organisms which collectively and individually share some fundamental principles with architecture. Plants take measures to control certain environmental resources, they perceive themselves and have the ability to distinguish between 'self' and 'non-self'. This capability allows them to protect their territory. Plants process and evaluate information and modify their behavior accordingly. An ecological understanding of the systematic behavior of plants can certainly contribute to architectural design.
The structure folds out of a completely symmetrical pattern of geometric rhombus like shapes laid over the site landscape. The rhombi (diamond resembling shapes) grow off the surface of the ground and wrap around the main pavilion structure at the heart of the site. The Pavilion, from plan view takes the form of a suspended leaf, suggestive of a grown seed from the ground. This organic concept is continually reminiscent of a self-sustaining system (similar to that of the behavioral traits of plants) responsive to its surroundings. A design which not only by concept but by physical form will impose a maximum level of dedication to issues of sustainability such as natural ventilation. On its interior the leaf provides an atrium with a variable height of 14 to 18 meters. The interior ramp which takes the viewers up towards the sky will provide a narrative, a journey on which the spectator will touch upon different culinary related senses whether it is taste, smell or simply a memory releasing these senses into the conscious mind.
At the front of the pavilion a small pond on the central axis of the site is formed symmetrically on the ground patterns providing a space for self reflection while subtly hinting at significant semiotics of Persian architecture (i.e. water, symmetry, multiplicity, etc.). Water also runs along the path of a ramp in the interior connecting the floor to the sky alluding reaching a sense of unity in the building. It also symbolizes the veins of a leaf and therefore a constant flow of life.
The main structure of the pavilion sits upon a plinth, a one story high structure which will provide a restaurant, exhibition space, offices and other facilities. Also in the back it will provide a modern central garden again strategically positioned on the central axis of the site which is a direct reference to the Persian garden.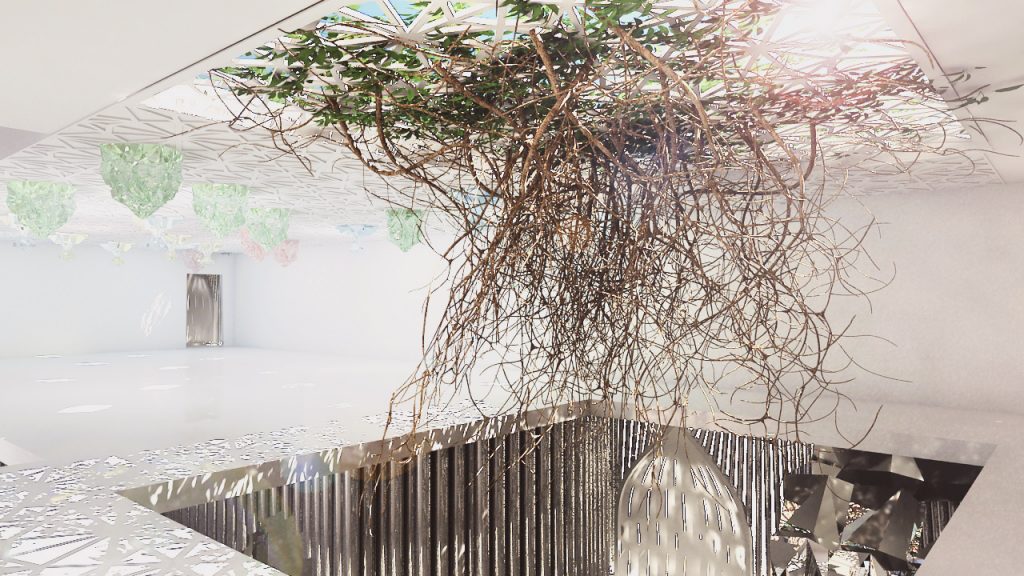 Next Project